All eyes on bridging visas
The Callinan report, an unusual alliance and lots of immigration news across the globe.
Hello!
Happy Friday on a big week in immigration news.
Please forward this memo to your colleagues and peers. They can sign up here:
---
Bridging visa and the Callinan review
A small piece of the CEDA report from last week was the subject of Tuesday's story on bridging visas. With 229,000 people now on bridging visas in Australia, it's not clear yet what impact this group has on the labour market. A piece of analysis from Gabriela D'Souza in the report caught my eye:
This uses a new ABS dataset to look at what proportion of people on different visas are unemployed. It's the first attempt to understand the working experiences of this bridging visa group as a whole that I've seen. The full report is here (pdf).
On the same day as the story went out, the Government confirmed in Parliament that they are expecting onshore protection claims and bridging visas to rise.
And later that day, the report into the Administrative Appeals Tribunal by Ian Callinan was released. It called for widespread changes to how migration matters are handled, including potential changes to s44A:
Here are the reports on the Callinan review from the major papers:
Please get in touch if anything in the review jumped out at you. Just reply to this email.
---
People of Australia
These are the Australian-born daughters of a Tamil family from the Queensland town of Biloela facing deportation.
Labor's immigration spokeswoman Kristina Keneally and radio host Alan Jones - a man usually known for his support of the Coalition - are lobbying Immigration Minister David Coleman to consider the family's case.
---
What else happened?
Policy
An opinion piece suggested communities are helping overcome migrant worker exploitation in regional areas:
A local council employee discovered migrant workers living in overcrowded, unsafe accommodation and feared similar working conditions. She regulated for better short-term accommodation and encouraged the local community to recognise their shared interest in treating seasonal workers better.
SBS Hindi covered the changes to the NSW skilled nominated visa (subclass 190) program for 2019-20.
Visa advisory firm vSure looked at the first year of the TSS visa: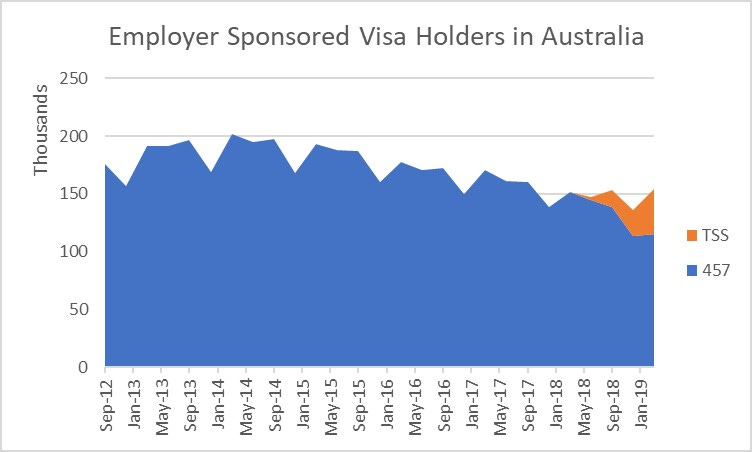 Henry Sherrell explored whether we are facing a citizenship crisis:
The rise of non-citizen children born in Australia and New Zealand citizens living in Australia restricted from citizenship raise important case studies for how our society is shaped and who is allowed full membership.
People
Crikey spoke to a migrant ($) who is in the thick of the bridging visa conundrum, to launch a series on immigration:
The man sitting opposite us says he has found happiness. He lives in a small rented room in an outer Sydney suburb. He works a 60-hour week in a low-paid maintenance job from which he could be fired at any minute. He travels three hours a day on trains and buses to get there. He has no Medicare cover should he get sick. And it's a whole lot better than where he came from.
Elsewhere, research found those who adapt to Australian society, called "Australian acculturation", have greater personal well-being than those who don't.
The Herald Sun reported of an AMES survey that highlighted employment and language difficulties faced by humanitarian arrivals.
Population
The Urban Developer reported on Propertyology research about internal migration.
The world
The New York Times covered President Trump's approach to migration, which has reshaped American border enforcement with its "zero tolerance" policy, and how it follows a model pioneered by the European Union and Australia.
New Zealand Prime Minister Jacinda Ardern criticised Australia's practice of deporting Kiwis on character grounds. Peter Dutton quickly dismissed her demands for the practice to end. The Conversation looked at the issue in detail.
The Economist argued ($) the White House is "ditching" half a century of immigration law.
Greens Senator Nick McKim was deported from Papua New Guinea as he sought to investigate conditions on Manus Island.
Helen Davidson from The Guardian delivered a comprehensive feature from her own visit to Manus:
For six years Shamindan Kanapathi has been lying to his parents. Since 2013 the Sri Lankan refugee has been telling his mother and father he successfully made it to Australia and resettled safely in a new life. Only his siblings know that the 28-year-old has spent the entire time detained on Manus Island.
UK business website SME asked whether the points-based visa system, as proposed by Boris Johnson, is really all it's cracked up to be.
A Jakarta Globe article from Ilham, a student at Flinders University in Adelaide, argued Indonesia must revisit its handling of refugees.
Migration agents say they have had a large increase in enquiries from people seeking to leave Hong Kong, including to come to Australia.
And finally, on the issue of persecution of Uyghurs in China, Foreign Minister Marise Payne said:
We seek the support of the government in China … for an opportunity to visit the region and to enable others to visit the region, which they have indicated in the past there is some preparedness to do.
---
Thanks for following. Next week, I'm looking at the Callinan review in more detail, as well as partner visas and the role of migrants in doing regional medical jobs. Please get in touch if you have any tips.
All the best,
Jackson