Plus, Chinese students talk, an alert leaderboard and a useful dashboard
Hello and happy Friday,
This week marks the end of the federal parliamentary year. Please enjoy the news below.
The Memo will be having a holiday over summer. Thank you for your interest, loyalty and feedback this year. Looking forward to a big 2020.
---
Temporary visas draw eyes, ire
Tory Shepherd reported a troubling case of temporary migrant working exploitation in The Advertiser ($) on Thursday:
NUW (which has since merged into the United Workers Union) says that last year eight female workers on 417 working holiday visas were trapped in debt bondage. The Taiwanese women's boss was also their landlord. He was paying them $16 an hour but charging them so much for accommodation, transport, and the internet that they needed more hours to pay. They were expected to "perform sexual favours to get more hours", according to the union.
The same day, Labor convinced the Senate to allow it to pursue an inquiry into temporary migration. It will be led by Labor's immigration spokeswoman Kristina Keneally and the party's deputy Senate whip Raff Ciccone.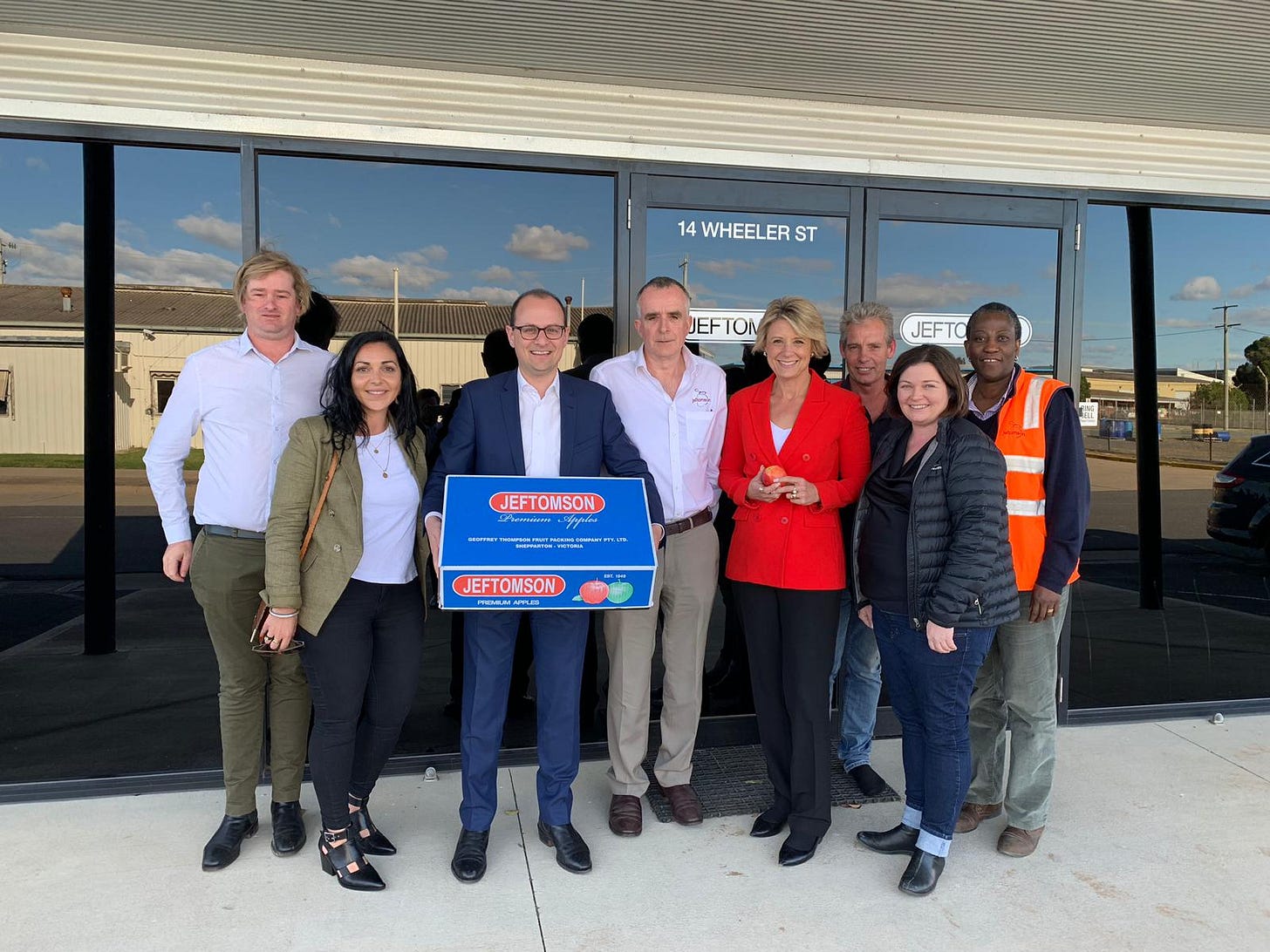 He's holding the box in the photo above, next to Victorian Farmers' Federation Vice-President Emma Germano, a proponent of the introduction of an agriculture visa.
The inquiry promises to cover:
government policy settings, including their impact on the employment prospects and social cohesion of Australians;

the impact of temporary skilled and unskilled migration on Australia's labour market;

policy responses to challenges posed by temporary migration;

whether permanent migration offers better long-term benefits for Australia's economy, Australian workers and social cohesion;

the impact of wage theft, breaches of workplace rights and conditions, modern slavery and human trafficking on temporary migrants; and

any related matters.
Labor's "airplane people" angle of attack on the Government has drawn widespread criticism, but this inquiry may reveal important insights around just how much temporary migrants are part of Australia in 2020 … and beyond. It will deliver its report in 12 months.
---
People of Australia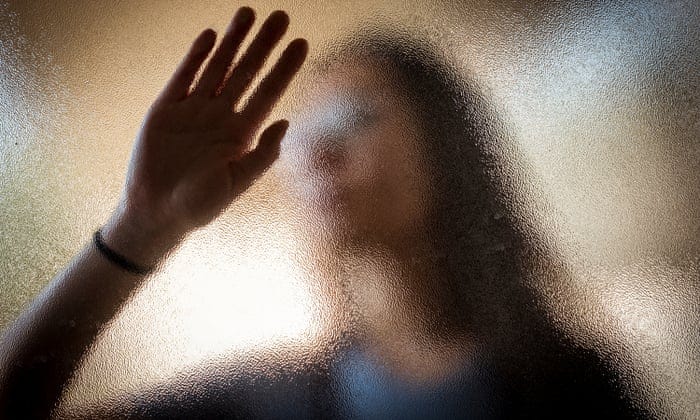 The Guardian spoke to seven Chinese students in Australia. Photo: Chris Hopkins
---
What else happened
Policy
Alongside its report into social cohesion, the Scanlon Foundation released a dashboard of migration statistics last week. It's a great reference for key migration trends.
Immigration data is often overwhelming, but the team behind the dashboard selected the visualisations - and designed them - very well.
There's even references to the data! This chart will be one to watch in coming years…
Elsewhere, the Australian reported ($) the nationality breakdown of the migration alert list. The top countries appear to those that have streamlined visitor visa pathways to Australia. Does that suggest the list may at least partly reflect people who have been pulled up in the past?
Researchers from Monash wrote about their research into discrimination and attitudes towards inclusion:
… 27% of Australians have experienced other forms of "everyday" discrimination at least weekly, such as being treated with less respect, harassed, or called names. We also found that people who have experienced discrimination have a lower sense of well-being and a weaker identification with Australia than those who have not.
SBS reported Australia will need to nearly triple its current aged care workforce by 2050 to keep up with demand.
The ABS' release into the income of migrants prompted coverage from The Australian ($). There was a strange spike for young migrant women in the investment income category:
AFP fact-checked a Facebook post that was too good to be true for those wanting to move to Australia.
The Daily Mail had a go covering the Scanlon report:
As Australia's high migration rate continues, the report, from the pro-migration Scanlon Foundation, found that Western Australia was the most racist place out of five states measured.
Tony Abbott's former advisor called for a migration cut.
New Idea delivered the truth about multiculturalism in Australia.
Breitbart picked up Home Affairs' submission to the nationhood inquiry. It referenced the SBS report. The Australian wrote an editorial.
The repeal of 'medevac' received widespread coverage and was the biggest story of the Parliamentary week, along with speculation that an arrangement had been made with New Zealand. Here's The Guardian, Washington Post, the SMH/Age, and the ABC.
The controversial visa tender process has been delayed, according to the SMH/Age.
Another response to Sam Roggeveen was published in the Interpreter:
Sam Roggeveen has written a lively essay on the current state of Australian federal politics, centred on the hypothetical scenario that one of the two major parties takes an anti-immigration policy to an election, overturning Australia's post-war bipartisan commitment to immigration to gain political advantage. Such an election would be a referendum on continuing population growth, and bring to a halt our cultural diversification and our integration into Asia, which is now the largest source of permanent new settlers.
Abul Rizvi penned two articles. The first is on the proposed visa processing reforms, the second on the contentious wage threshold for the new regional visas.
The Daily Telegraph reported ($) children of migrants are performing well at school.
The 2018-19 migration report was released (pdf). Let me know if anything jumps out at you.
People
The Conversation covered what the 'medevac' repeal means for asylum seekers.
The Senate passed a motion from Greens' senator Janet Rice to expedite the asylum claims of two Saudi journalists. The Guardian report noted support from around the world:
Several international media organisations have also written to Australia's immigration minister, David Coleman, in support of the men. "This is unjust treatment of two journalists who travelled to Australia seeking protection from the persecution they faced as gay men in Saudi Arabia," wrote one letter from Mark MacKinnon, of Canada's Globe and Mail.
The Lithgow Mercury and Blue Mountains Gazette reported of the experience of Cambodian migrant Bon Nging in the Adult Migrant English Program at Lithgow TAFE:
"I'm really happy with my new life in Australia. I wouldn't have been able to successfully run my own business and communicate with clients on a daily basis if I didn't study at TAFE."
The ABC covered the loss of foreign languages by people in Australia.
A poignant story from Aaron Fernandes appeared on SBS in which he interviewed Sri Lankans who had been sent back.
Population
Newcastle, Wollongong and Geelong are looking for recognition.
"At times, our cities have fallen between the gaps of national planning and population policy, occupying an uncertain world between our metropolitan capitals and the towns and cities of regional Australia," the mayors say in a joint statement.
A feature in The National Interest pondered Australia's "demographic time bomb".
With politically unpopular reforms consigned to the "too hard" basket, immigration likely will continue propping up economic growth until it too reaches its limits. Time bomb or otherwise, Australia's demographic clock is definitely ticking.
The world
The Sun covered a survey showing seven in ten people want an Australian-style cap on work visas issued to migrants after Brexit.
Boris Johnson said "an Australian-style immigration system" would be in place in place by January 1st, 2021.
And finally, the South China Morning Post reported on immigration tensions in Singapore:
"Foreigners" – from mainland Chinese to Filipinos – have been blamed for a range of problems, including overcrowding on public transport and unemployment. But the discomfort with those of Indian ethnicity has been shaped by the influx of educated foreign professionals over the last two decades, working in sectors ranging from finance to technology.
---
Thanks for reading. Catch you next year.
Jack